Gebel Georg (1709-1753)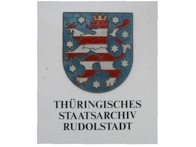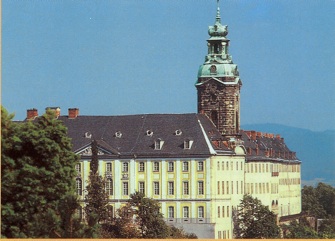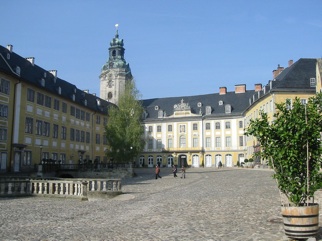 An extensive collection of about 150 cantatas by Georg Gebel, composed in Rudolstadt between 1747 and 1753, is held in the Thüringisches Staatsarchiv, Rudolstadt. Solo bassono/bassuono/fagotto parts from 15 of these works are reproduced here for personal study by generous permission of the Thüringisches Staatsarchiv. Further works with obbligato oboe and/or bassoon have yet to be studied in detail.
There is notable inconsistency in the use of bassono, bassuono and fagotto to specify instrumentation. Terminology on title pages, score and individual parts are often inconsistent for the same work.
The Gebel works written in Rudolstadt have been been catalogued with incipits in Schröter Axel 2004, Zur Kirchenmusik Georg Gebels (1709-1753) Ein Verzeichnis der in Rudolstadt vollendeten Werke.
Peter Lang AG International Academic Publishers. Pieterlen, Switzerland 2003.
The citations given here refer to the Archiv numbers (HKR) and to the page entries in the Schröter Werkverzeichnis.
Thüringisches Staatsarchiv
Address: Staatsarchiv Rudolstadt, Schloss Heidecksburg
D-07407 Rudolstadt, Germany
Contact: Frau Katrin Beger, Oberarchivrätin
katrin.beger@staatsarchive.thueringen.de
websites:
Thüringen in general:
http://www.thueringen.de/de/staatsarchive/rudolstadt/online-Findbuecher/content.php
Musiksammlung Rudolstadt:
http://www.archive-in-thueringen.de/index.php?major=archiv&action=detail&object=bestand&id=20177
Cantatas (1747-1748)
Legt ab die Werke HKR 825 Schröter p 20, 58,150
Aria "O heiliger Gott"
Alto, oboe, violino sordino, bassono, continuo
Ihr Tränen geht HKR 849 Schröter p 101, 249
Aria "Ich will länger nicht verweilen"
Soprano, bassono, continuo
The link includes a modern transcription by Helmut Tzschökell,
reproduced here by kind permission of Frau Hannelore Tzschökell, Rudolstadt
Wie liegt doch der Himmelsweg HKR 862 Schröter p 67,172
Aria (part 2) "Demuth, Demuth ziert die Seele"
Alto, tenor, traverso, violini sordini, bassuono oblig, continuo
Frommer Gott!, voll reiner Triebe HKR 866 Schröter p 24,68,174
Aria "Judas Grüss' und Judas Küsse"
Bass, solo fagotto, violino, oboe, continuo
Herz, auch, walle doch vor Lust HKR 878 Schröter p 70,179
Aria "Lass mich Jesu keinem glauben"
Tenor, hautbois solo, fagotto obligato, continuo
Wisset ihr nicht HKR 933 Schröter p 83, 210
Aria (part 2) "Ich sehne mich zur Ruh"
Tenor, bassono solo, continuo
Danksaget dem Vater HKR 959 Schröter p 89,227
Aria "Lamm, dass ohne Wandel ist"
Tenor, bassono solo, continuo
Cantatas (1749)
Soll ich den Kelch nicht trinken HKR 871 Schröter p 91, 229
Aria "Nur in Gottes Vater Willen"
Tenor, bassono 1&2, vln, vla, continuo
Vater ich befehle meinen Geist HKR 893 Schröter 95, 236
Aria "O süsses Wort"
Tenor, oboe, bassono, strings, continuo
Cantatas (1750-1751)
Ein anderen Grund HKR 839 Schröter p 99, 246
Arioso "Artzt ist mein Name und mein Ruhm"
Bass, bassono solo, continuo
Wo kaufen wir Brot HKR 877 Schröter p 108, 262
Aria "Ich lasse Gott in allen walten"
Tenor, oboe solo, fagotto obligato, continuo
Wirf dein Anliegen auf den Herrn HKR 951 Schröter p 127, 296
Aria "Meine Seele ist stille zu Gott"
Tenor, solo oboe, solo fagotto, vln, cont
(Note that traverso 1 also plays fagotto solo, traverso 2 also plays oboe solo)
Wer das lieset der merke auf HKR 960 Schröter p 128, 301
Aria "Komm wenn du wilt zu meinem Ende"
Tenor, bassono solo, continuo
Passions, Oratorios
Weihnachtsoratorium HKR 843 Schröter p 130,304
Aria duet: "Komm süsseste Hoffnung"
Soprano, alto, traverso, bassono, violino 1&2 con sordini, continuo.
CD Cantus Thuringia cpo 999 993-2, track 16.
http://www.classicsonline.com/catalogue/product.aspx?pid=486898
Johannes Passion HKR 976 Schröter p 130, 306
Aria "Ja, ja, ich will mich auch bequemen"
Tenor, violini con sordini unisono, bassono, continuo.
CD Weimarer Barock Ensemble cpo 999 894-2, CD 1, track 9.
http://www.classicsonline.com/catalogue/product.aspx?pid=486884#